Posted on September 06, 2011 by CincoDeMayoChicago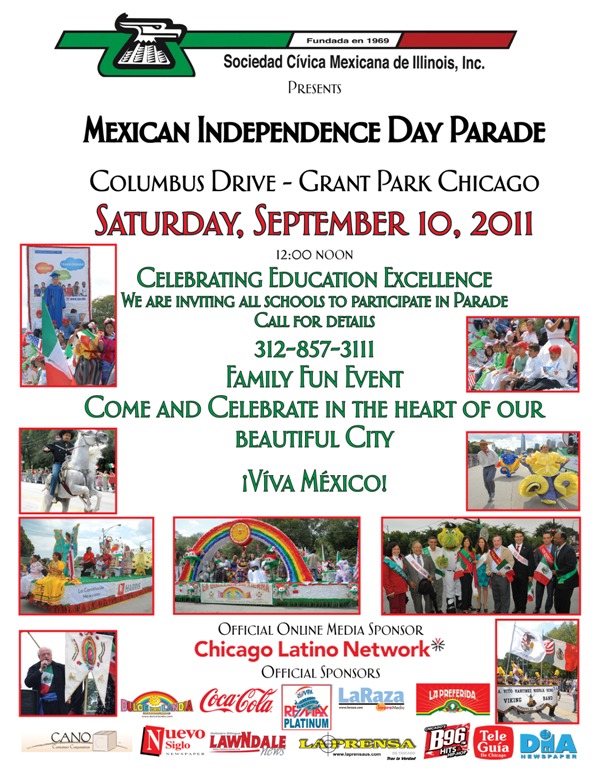 Posted on September 06, 2011 by CincoDeMayoChicago
Mexican Independence Day Parade
Come witness a beautiful celebration of Mexico's independence from Spain which started during the Mexican War of Independence on September 16, 1810. Watch the annual Mexican Independence Day Parade on September 10 starting at NOON! The parade will take place on Columbus Drive from Balboa to Monroe. This event is FREE!There will also be a….
South Chicago Mexican Independence Day Parade
This parade will be held on September 11 at 8700 S. Commercial Avenue. Enjoy more vibrant floats, mariachi bands, flamenco dancers as families line Commercial Avenue in South Chicago to celebrate Mexican Independence Day. This parade is also FREE!
Cinco de Mayo & 16 de Septiembre are two of the most important celebrations for the Mexican people. Cinco de Mayo commemorates the triumph of the Mexican Army against the French & Austrian invaders. 16 de Septiembre, El Grito de Independencia, celebrates Mexico's independence from Spain. Mexican cities and towns are all decorated with ribbons & flags for these grand celebrations . Impressive parades take place as well as spectacular fireworks, folkloric dances and delicious food! Join in the joyous celebration and see how Mexicans have fun when they have a Fiesta! - Information courtesy of InsideMexico